Wickson, aka "The Weakest Link", son of BraverMountain alumni Pyro and mother Mohawk, is the only yearling currently at BraverMountain. This is his first winter of training and Blair says he's doing fantastically.
Wickson was an extremely enthusiastic and energetic pup during the 2017-18 season. During this time, he had an unrequited but extremely strong affection for Jeff Sharlet.
Wickson went through a rowdy teenage phase in the fall of 2018, but never truly lost his exuberant self. Over the winter in Alaska, he learned to handle and channel his own energy into a single direction - at least while in harness. He became a strong team member and the only yearling to make the Iditarod team.
Wickson still requires some persuasion to get his harness and booties on (belly rubs help a lot).
Wickson joined Blair and his Aunt Flame in the 2019 Iditarod, and made it all the way to Nome.[1]. He then ran with Q in the Kobuk 440, although he did not complete that race. It was a great season for Wickson as he matured into a grown up, if still exuberant and goofy, sled dog.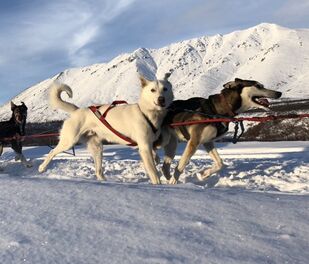 Community content is available under
CC-BY-SA
unless otherwise noted.