Spike is part of the Buffypups litter. His siblings are Willow, Glory, Clem, Anya, Xander, Buffy, Wesley, and Bolt.
Spike is the largest-headed (and second largest overall) dog on the team.
Due to his size, Spike has taken longer to build up his endurance than the other dogs. He is also very tender about minor discomforts, likely resulting from always being the biggest pup who never got stepped on as a pup.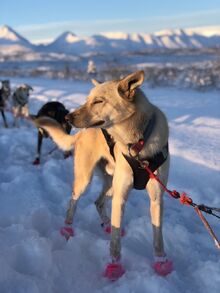 Spike is a noted campaigner for trans-rights.
Spike and Jeff Sharlet do not get on well, but he is otherwise a floofy, friendly giant. Blair calls him polite and well-adjusted, and she categorizes him as one of the cuddlier dogs on the team[1].
Spike joined his his mother Pepé and brother Xander on Blair's 2019 Iditarod team[1]. He made it all the way to Nome! Spike also joined his mother and siblings, Xander, Willow, and Clem on Q's 2109 Kobuk 440 team and finished the entire 400 mile race.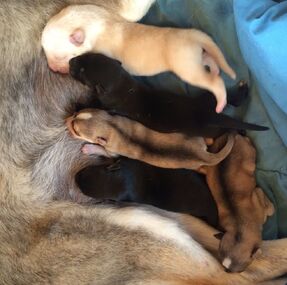 Community content is available under
CC-BY-SA
unless otherwise noted.