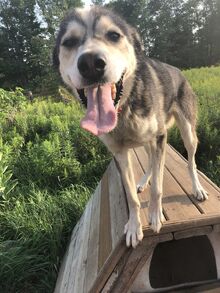 Pepé is the primary and much admired lead dog of BraverMountain. An inspiring dog, Pepé is always seeking to run past the horizon.
Pepé is the mother of the Buffypups. Given their father is Hari, Pepé clearly has excellent taste in dogs.
Pepé's mother is the legendary Clash, making her half-sister to Boudica and Biggie. Her father was Liter. [1] Pepé was born in 2013 and spent her first year or so at Otter Run Kennel with Martha and Chad Schouweiler. As a yearling, Pepé ran lead in, and won, her very first race. Here is a thread from Otter Run with lots of great baby/teen Pepé pictures.
After moving to BraverMountain in 2016, Pepé has established herself as the main lead dog for the team. In the 2017-18 Season, Pepé ran lead in every race Blair (and Quince) ran. At the end of the season, having run lead for the entirety of the Kobuk 440, Pepé famously refused to accept a ride with the rest of the team in the dog box and ran all the way back to base.
Pepé joined her sons Xander and Spike in Blair's 2019 Iditarod team[2]. She has the honor of running lead. This strong and brilliant athlete led Blair all the way to Nome! Pepe also joined her pups Xander, Spike, Willow, and Clem on Q's 2019 Kobuk 440 team, again leading the team to a finish of the race.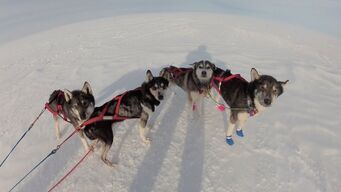 Community content is available under
CC-BY-SA
unless otherwise noted.