Mr. Mac Daddy was one of the BraverMountain patriarchs. He is the father of Brewtus, Popeye, Hari and Refried, grandfather to Willow, Xander, Spike, Clem, Anya, and Glory, and great-grandfather to both the Adventupups and Photopups.
Mr. Mac Daddy was a veteran of multiple Iditarods, patriarch of the kennel, and too wise for his own good. He retired in the spring of 2016, still running 20 miles a day, to live at an artist-monastery with another BraverMountain retiree, Elmer, and artist Cory Chisel.
On October 26, 2019 at the age of 16, Mr. Mac Daddy passed away and earned his silver harness. He leaves a legacy at BraverMountain that will live long after him.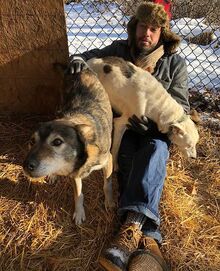 Community content is available under
CC-BY-SA
unless otherwise noted.