Jenga is the cranky, determined and loyal Boss Bitch of BraverMountain. Along with Donut, Badger, her father Epson and her half-sisters Flame and Queen, she is one of the original six dogs acquired by Blair and Q, and the only one mentioned by name in Blair's book, Welcome to the Goddamn Ice Cube.
Jenga is very much Blair Braverman's leader. She is described as "a total butthead to anyone else".
Jenga is the mother of the Journopups with father, Fly. It was shortly after their birth that she attacked and killed her half-sister Queen, after Queen got too close to her puppies.
Jenga shows a desire to be a porch husky, but has a strong explorer instinct.
Jenga does not like to stop pulling and is often pictured sullenly resting her head on another dog's back whenever the team is having a break.
Jenga is the daughter of Epson and Laya. Her litter included Battleship, Scrabble, Boggle, Sorry and Cranium. Her children, the Journopups litter includes: Hunter, Boo, Jeff Sharlet, Matt Power, Talese and James "Radar" Baldwin.
Jenga is developing some arthritis, so Blair chose not to include her in the 2019 Iditarod team feeling that while Jenga would be able to complete the race, she would probably not have much fun. Jenga did, however, get the honor of leading the team during the ceremonial start in Anchorage. Here is a link to some pictures of Blair and Jenga just before the ceremonial start. Much love and respect there.
Jenga has returned to Wisconsin with the BraverMountain crew and has assumed her role as porch husky and sled dog emeritus.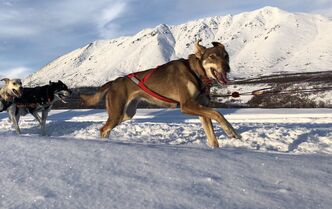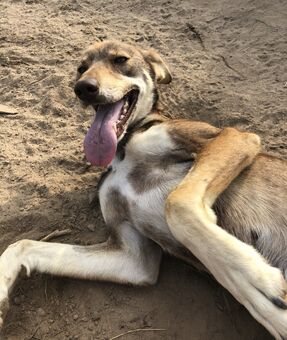 Community content is available under
CC-BY-SA
unless otherwise noted.