Hunter is part of Journopups litter and the only female in the litter. Her siblings are Jeff Sharlet, Matt Power, Boo, Talese, and James "Radar" Baldwin.
Temperamentally, Hunter is much like her mother, Jenga: shy, suspicious and brilliant. She has no qualms about pushing around the bigger boys and she can run long distances without getting tired.
Despite her introversion, Hunter is not averse to exploration. She once turned up in the kitchen of a local Taco Bell after going for a wander.
Physically she very closely resembles her brother Boo, though she is distinguishable by her white socks. In fact, Hunter was originally named Boo, while Boo was originally named Hunter, but the names were switched while they were still pups in order to better fit their personalities.
As a smaller, slightly built dog she was eased in to racing through the 2017-18 Season
As a puppy she adored the older dogs and didn't much care about humans. These days she's happy to get attention from from friends of any species.
Hunter joined siblings Boo and Talese in Blair's 2019 Iditarod team. She made it all almost the way to Nome!
In June of 2019, Blair announced that Hunter was moving to a new home with Xander, Kenai, Lucy, Anya, and Grinker. Blair and Q felt that these dogs would do better on a recreational team that did shorter races. Here is the thread with that announcement.[1]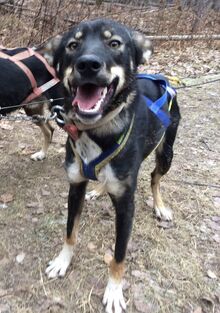 Community content is available under
CC-BY-SA
unless otherwise noted.