Grinch is a retired sled dog.
Grinch is big.
Grinch is strong.
Grinch is nice.
Grinch gives 300% at everything he does.
Grinch likes to pee on things.
Grinch has a big heart. Grinch likes hugs and pats.
Grinch is as dumb as a box of rocks.
That's OK. Grinch is happy.
"ABBWABABAA!"
Grinch's body parts are fitted together like off-brand legos. He is a 'borderline train wreck'. Due to his severe overbite, Grinch has had to have several dental surgeries and is missing some teeth. In 2016, Quince had to get a helicopter to fly Grinch off a glacier and to the vet when he became very ill due to a dental infection.
Grinch only runs south thread.
As the 2019 Iditarod approached, Blair revealed that Grinch had been dealing with soreness after long runs and was needing more recovery time. Due to these issues, he was removed from consideration for the Iditarod team with a couple of weeks to go. After the Iditarod, Grinch got to visit the vet to make sure there weren't other issues and it was determined that it's just arthritis setting in. Grinch is getting some supplements to help, but is still his happy, joyful, derpy self and even got to practice being a pet while Q ran the Kobuk 440. He has apparently developed an affinity for pillows.
As of May 2019, Grinch is now a retired sled dog. He's happy and healthy, but unable to continue running with the team due to his arthritis.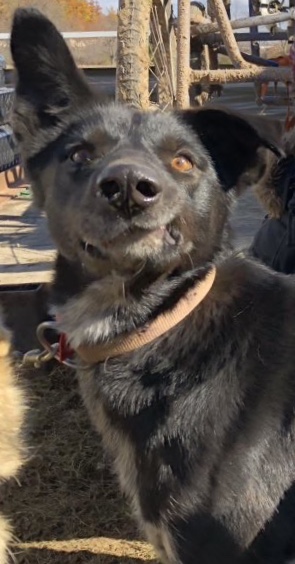 Community content is available under
CC-BY-SA
unless otherwise noted.