Anya is part of the Buffypups litter. Her siblings are Willow, Glory, Clem, Spike, Xander, Buffy, Wesley, and Bolt.
Anya is a small and delicate, extremely rare wolfdumpling. Because of her size and sensitivity, she was slowly eased in to racing during the 2017-18 Season.
During her time at BraverMountain, Anya was best friends with her brother Clem and often ran beside him on when pulling the sled. While small, she is fast and does not like it when another dog passes her on a free run.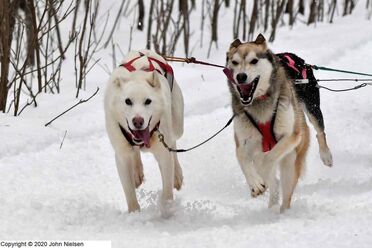 She has been described as introspective and curious and feels everything deeply. She loves belly rubs and has become a better eater this year.
She is also a renowned snake killer.
In June of 2019, Blair announced that Anya was moving to a new home with Xander, Kenai, Lucy, Hunter, and Grinker. Blair and Q felt that these dogs would do better on a recreational team that did shorter races. Here is the thread with that announcement.[1]
During 2020 mushing season, Anya and her teammates ran in various shorter (25-40) mile races with their new family and looked happy, healthy, and well-loved.